BOWLING @DGI Byen – 26th October, 19:00. (members only event)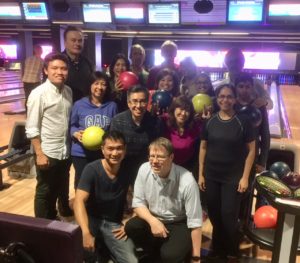 BOWLING @DGI Byen – 26th October
We held a bowling session for members at DGI Byen and those present had an enjoyable time. Many of those who attended were not seasoned bowlers but there was intense rivalry among the 3 groups, everyone supporting and clapping for each other – whether there were strikes or gutter balls (of which there were many!). The best team comprising of Jalmit, Hans, Peter, Jan and Niels Borglum were rewarded with a box of chocolates which they graciously shared with the 'losers'. All-in, a fun evening!
AGM – 12th November
MDA held its AGM in Saigon Restaurant in Vanløse. Attendants were given the rundown on the club's activities for the year and briefed on the financial position. They were also requested to vote on the amendments to the Constitution which was overwhelmingly approved. The meeting went off very smoothy and was followed by dinner.
JOM MAKAN / LET'S EAT – 13th August
MDA organised a Jom Makan/Let's Eat session with Mona Wee, cooking laksa lemak, a spicy noodle soup dish with generous amounts of ingredients like fish balls, chicken, prawns, bean sprouts etc. Although the soup was spicier than expected for some, everyone relished this opportunity to eat a meal that reminds them of home. This dish is very popular in Malaysia and there are many varieties, depending on which state one comes from.
Participants were encouraged to help in the cook-along and they did their respective tasks with flying colours! It was a relaxing (not for the cook!!) and delightful afternoon where those present got to make new friends and for some, to catch up with old friends.
Many thanks to Catherine Putzeys who was kind enough to loan us her spacious kitchen. We hope to have more of such events in the near future as everyone was eager to know when the next Jom Makan will be held.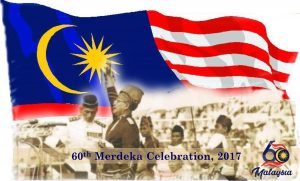 60TH MERDEKA DINNER – 9th September
Celebrated this auspicious event at Hvidovre and attendance was fantastic with over 100 guests. Entertainment came in the form of traditional dances like the joget which had 3 young dancers who got some of the audience joining in the fun, the sumazau which is a traditional dance of East Malaysia and a lovely violin performance. Bernard Ong held the attention of the guests with his brief demo of tai chi. The raffle draw was the highlight with the first prize of a return trip to Morocco but there were also many good prizes.
The buffet spread was generous with many varieties and most importantly, authentic Malaysian dishes like Nyonya chicken sambal, rendang, roti jala, dhall and chicken curries and also desserts like a Merdeka cake, seri muka,banana fritters among many others which earned heaps of praises from the guests.
Another Merdeka dinner well received by all.
EID FOOD FESTIVAL 2017
MDA had a food stall at this years EID Festival held at DR Koncerthus on the 1st of July. We sold many varieties of Malaysian food that are popular like satay, nasi lemak, curry puffs and fried noodles, just to name a few. It was nice being able to share with the community a taste of Malaysian food.
Joint Picnic 2017 with Denmark Singapore Club
On the 17th of June, we had our yearly joint picnic at Frederiksberg Gardens. It was a fun and relaxing afternoon in the sun. We enjoyed tasting the delicious home made Asian food that everyone brought along.
MUHIBBAH 2017 – 25th February 2017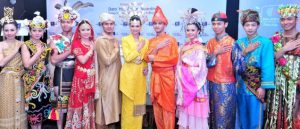 Muhibbah, our yearly potluck on 25th February held in Herlev, never fails to attract great response and this year was no different. With a good variety of food on the table and entertainment thrown in, the guests had an enjoyable evening, getting to meet new and old friends. Prizes were given to the best dressed, female and male.